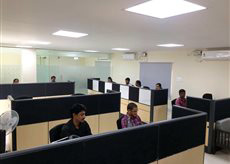 Hotel Management Services
Corsendonk is a process support centre for Back-Offices.
Corsendonk can manage your administrative flows, automate and optimize these.
Corsendonk is reseller for Exact Online.
Managers from Corsendonk are having a minimum experience of 12 years in BPO sector.
Leaders in handling financial administrations for hotels in Belgium with references:

3 Stars Hotels : Financial administration / BPO.
Prem Hotels : Financial administration.
Corsendonk Hotels : Financial administration. (www.corsendonkhotels.com)
Corsendonk is a process support centre for Back-Offices.
Corsendonk can manage your administrative flows, automate and optimize these.
Corsendonk is reseller from Exact Online.
Managers from Corsendonk are having 10 years of experience in BPO sector.
Leader in handling financial administrations for hotels in Belgium with references:

3 Stars Hotels : Financial administration / BPO.
Prem Hotels : Financial administration.
Corsendonk Hotels : Financial administration.
CORSENDONK INDIA has 12 years of experience in the Hospitality industry. We provide back-office functions (both limited service and full-service hotels) Furthermore we are working with Fidelio and we can provide services based upon the usage of internal Systems Software and interfaces.
Import booking documents of salaries given by "social secretariat ". This means no differences in salary bookings.
Reservations.
Commissions.
Yielding.
Website tour operations.
Accounting.
Employee Payroll.
Purchase order Processing
HR Administration.
Availability.
Yielding.
Allotments.
Reservations.
Night audit.
Website reservations cross check.
Prices
Employee management.
Outsourced employment.
Heating automation.
Payrolls / scheduling.
Invoicing.
Reports.
Rate code.
Benefits
We strive to support our customers on a personal level, and with the fastest support and service turnaround time, within few times all the new data will be imputed into the system so daily updates are readily accessible and available, in most of the hotel operations this is treated separately, our range of expert systems can cater and integrate them all (PMS/Accounting/reservations etc.)
Leader in handling financial administrations for hotels in Belgium with references
3 Stars Hotels: Financial administration / BPO
Corsendonk Group of Hotel Hotels : Financial administration/BPO
Prem Group of Hotels (Belgium)
Borealis Group of Hotels
More individual Hotels in Europe